A frank conversation with my insightful and honest friend David Wheeler whose 6-year-old son, Ben was killed in the Sandy Hook Elementary School shooting in 2012. David has a lot to say about grief, navigating life after loss, and how our own personal reactions sometimes prevent us from truly supporting others in the wake of trauma and sadness.
Learn about the Wheelers' non-profit organization, Ben's Lighthouse whose mission drives them "to foster all children's potential to build a more compassionate and connected world".
---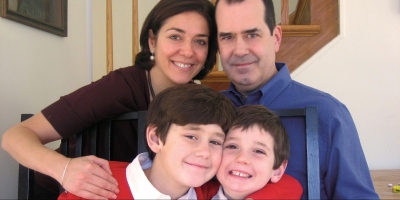 David Wheeler is a designer and illustrator, writer, speaker & musician, living in Sandy Hook Connecticut with his wife and family. On December 14th, 2012, David's six-year-old son Ben was killed in his first-grade classroom at Sandy Hook Elementary School along with nineteen of his classmates and six of his teachers and administrators.
David's compelling testimony to the Connecticut Legislature's Bipartisan Task Force on Gun Violence in January of 2013 received nationwide attention. He and his wife Francine, have engaged in candid conversations on The Rachel Maddow Show, Oprah's Super Soul Sunday, Moyers and Company, CBS This Morning, and 60 Minutes. Their story is featured in the 2016 feature film Documentary "Newtown". David has recently been included in articles published by The New York Times, New York Magazine, the Columbia Journalism Review, and the New York Times podcast "The Daily" in which he discusses the groundbreaking lawsuit he and Francine are taking part in against Remington Arms, the maker of the gun used in the Sandy Hook massacre.
---
Find the Truth & Consequences website, Facebook page, Instagram & Twitter accounts. Find the Second Wound website, Facebook page, Instagram & Twitter accounts. Learn about personal coaching with host Miranda Pacchiana, MSW on the Second Wound website coaching page. 
Want to treat yourself & support the show? Check out our affiliate Buffy for cozy, affordable bedding products that are safe for animals, the environment, and your budget! Get Free Trial, Free Shipping, Free Returns at Buffy!
Add convenience to your life while supporting the podcast. Instacart saves you a trip to the market by delivering groceries and other goods right to your door.